Can disruptive bring positive changes? Interview with disruptive art ®
In a year of disruption, what if we could see this word in a new light? Interview with Kim Hendi, founder and CEO of disruptive art ® who shines positive vibes on a word too often perceived as negative!
Disruptive is a word that has been highly associated with 2020. The world was disrupted, our habits, our lives experienced disruptions. We all struggle to get used to what has become the new normal. Feelings towards disruptions were negative. What if disruptive, the word, and its signification could take a more positive pathway? A way in which disruptive and disruptions bring positive changes, question the status quo and make you reinvent yourself, seeing things in a new light. This is how Kim Hendi, the creative founding brain behind disruptive art ®, see it!  
Who is Kim Hendi?
Dr. Kim Hendi (Radha) is the founder and CEO of disruptive art ®, an innovative coaching technique than combines mindfulness, art and science to promote creativity, innovation, balance, and well-being. Her background includes creative developments as a consultant in international development and senior partnership officer for the Government of Canada, advising in areas of digital technology, connectivity and intellectual property.  In addition to her consulting, coaching and art activities, Kim is now thrilled to launch her online store at disruptive.art !  
Kim, please tell us a bit more about your project disruptive.art   
The new disruptive.art shop brings elements to enhance your day, balance your senses with mindfulness, art and science. We're launching with our collection "Seize Life by the Art!", as well as a couple of items from collections to come.    
On a general note, this is a new addition to our disruptive art coaching experiences, which bring together mindful breathing and visualization to tap into the right side of the brain, the creative, holistic side, and then through hands-on art, creative interventions and feed-back interactions promote balance and re-wiring of the brain, and an overall sense of empowerment and well-being. 
Tell us about your path, how did you come about creating disruptive.art ?  
As sector matter expert in innovation and technology for the Government of Canada, I was invited to be part of an advisory panel on the "School of Tomorrow". Following the panel, Shauna Pollock, the lead educator, invited me to coach the learners in one of my multiple-dimensionality expertise. We decided it would be art and mindfulness, with the incorporation of a "surprise" element to take them out of their comfort zone. That is how disruptive art ® was born. 
You trademarked the name Disruptive art as well as your mojo Connect . Create . Engage – why was that important to you?   
As a sector matter advisor on intellectual property, I understand the importance of protecting your brand, especially if it includes words that could be "catchy".  "Disruptive" is one of them.  As a sector matter expert in digital technology, I understand the meaning of "disruptive" as something innovative, new, and groundbreaking, like a "disruptive technology".   There have already been two instances that I've had to protect my brand.   To protect the professionalism, expertise and science behind the disruptive art coaching technique and the mindfulness and art of the disruptive.art shop. Same with the mojo, as connect, create, engage reflect disruptive art ®
"In the digital world we live in, now more than ever, I believe people should consider protecting their intellectual property." – Kim Hendi, founder and CEO of disruptive art ®
 What challenges do you see with the current context?  
Screen fatigue is one of our biggest challenges and definitely a reality. Overwhelming stress is put  on the left side of the brain leaving the brain with the unbalance of the creative, holistic right side.  We need technology and rely on it for most things today, especially during COVID times. So, while art can bring balance, joy, the screen time required to bring this to the people creates tension. A challenge for all forms of coaching, art expression, life interactions to reach participants and bring joy, healing, services they would benefit from and make them happy. 
We have been successful in providing disruptive art experiences virtually, brains need a break. Time "off" technology and screens is key.   
Why did you choose a .art domain for disruptive.art? Why was it important to you | what motivated your decision?  
Right after I decided my brand as disruptive art, and being a sector matter expert in digital technology, I started exploring securing the .ART domain. It was just common sense for me. In addition to being part of my brand, and a fabulous marketing tool, it completes the essence of my vision and mission: of bringing art, mindfulness and balance to the world.  
Life is art. I think everyone with any further connection to the arts should consider a .art domain. It makes sense, it's fun and also cool. (that is what I will used for social media) 
You just launched a shop, adding a line of products to your service offers – how do you see this as complementary?   
The new disruptive.art shop brings elements to enhance the everyday life, to balance your senses, and support our vision of brining mindfulness, art and science to the world. We are launching with our collection "Seize Life by the Art!", a new mojo we developed, and will continue with the launch of other collections.  We intend to have objects featuring different artist, and wall art depicting work of participants of disruptive art experiences.  
What do you hope to see in 2021 in the Art World | Art communities? 
That people from all walks of life are encouraged to express their emotions, that they can tap into their sense. I hope of a 2021 where art is more widespread. In all its forms. Hopefully, it will also be the opportunity for art galleries to open to public connection once again. 
What is next for Disruptive.art ?
On the disruptive.art shop side, we will be adding new collections. We are really excited with this development, as it is an opportunity to bring our creations to tangible objects, easily accessible to the public, and wearable!   So, focusing on more art creation is also in the books for me! 
On the coaching and experiences side: We're developing on demand courses so participants can follow/learn/create in their own time and at their own pace. As scientists and technology experts, as well as artists, we have to be mindful of screen fatigue, the overload of information, the actual need for technology but also the need to take a break from it. We are thinking about new ways to balance art, technology and mindfulness. Pre-recorded videos and courses seem an option. 
We'll also be developing a training certification for disruptive art coaches.  We've had a lot of interest from artists and meditation practitioners to bring it all together.  We'll be working on that.  
What piece of advice would you want to give to the new generation of the artistic community?  
"Seize Life by the Art" – Just go for it. Be bold, be courageous, be attentive, be kind.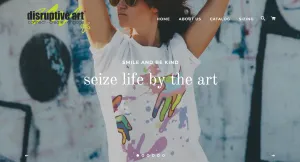 Anything else you would like to add? 
I am super excited of the new opportunities in art and technology ahead. The challenges to ensure equal access to all to both the creation, mindful use and training in technology and art. The world has realized the importance of technology. I trust it will lead to a world where there is also the realization of the importance of art.  
THE BLITZ  
Person with the greatest influence in your life
I would have to say my father. He was an entrepreneur, an inventor, a businessperson, was kind, hard worker, generous, resilient, strong, and positive, and never gave up.    
An object you can't live without 
My laptop 
A character trait you value most highly
Empathy & respect 
Favorite book
"THRIVE", by Arianna Huffington   
If you weren't you, who would you like to be?
A mermaid
When I say "art", what if your first thought? 
Fun, free & joy 
What's your idea of happiness?
Creativity, excitement, health & love. 
To know more about disruptive art ® visit their website at disruptive.art