Adopter stories: "Art Handler shines a light on all art's messiness, absurdity, and glory"
Art Handler is the first and only publication to solely focus on the art world's behind-the-scenes.
In the age of the "global weirding", art and art related initiatives have to go through some rather noticeable changes. It concerns not only the way museum collections are being built or how art institutions tend to establish a dialogue with the local communities, it also has to do with the voice of the behind-the-scenes of the art world and the way art workers create an even art market for themselves, promoting transparency and fairness. In order to point out these problematics, .ART has talked to Clynton Lowry, the founder of Art Handler and jobs.art.
With initiatives like these we feel that the art world is about to be inevitably transformed, which gives us a rather empowering feeling.
I think it's funny that Art Handler is an art magazine that doesn't necessarily promote art but raises the value of everything around it, shining a light on all art's messiness, absurdity, and glory.
As I understand, Art Handler Magazine grew from personal history. Could you tell us the story of how you moved from being an artist and a career in art handling to becoming the founder and editor of two projects?
Working in the art world, you realize that it's just as much an industry as any other field. The idea behind Art Handler as well as Jobs.art was recognizing this from the start. Since the art world is just as much a work environment as it is a creative one, too often when these lines are blurred, it can lead to various forms of exploitation, so the magazine, and more so Jobs.art, is an opportunity to redefine common terms from this perspective, based on the needs of art workers. As Jobs.art becomes more and more useful to the art community, the goal is for it to also be a vehicle to introduce some better practices. Our policy of "No unpaid and underpaid work" seems like a great start.
Art Handler is acknowledging behind-the-scenes of the art world. It has very unique content. Still, the amount of art publications competing for the limited readership is rather big. How do you differentiate your content? What are the characteristics of the unique voice of Art Handler?
Art Handler is the first and only publication to solely focus on the art world's behind-the-scenes. Art Handler's position essentially departs from other art publications that privilege the artist and the exhibition. Instead, it celebrates the everyday struggle that makes possible art's rarified and glamorous scene, interactions within the art world that are typically hidden or ignored.
What is the difference between the printed Art Handler and its online version?
The online version contains all of Art Handler's published content – all sixty plus original articles. The printed version is a broadsheet that represents a sample of that issue's content. It functions more like an object in that it's uniquely designed, limited, and provides the reader with something tangible, which folds out like a poster. After you read it you can pin it on your wall if you like and become an "art handler" of sorts yourself.
The Art Handler Magazine has a very active Instagram feed. Its humorous voice makes the feed more accessible and open to the more general public, not necessarily related to the art world. Do you feel that with the help of social media your magazine became more inclusive?
I feel Art Handler's potential for mass appeal was always there, but social media made it real. Art Handler wouldn't be what it is without the influence/participation of its followers. Embracing that early on has been a key to its success and has as much to do with humor, or not taking the art world too seriously, as it does with accessibility. I think it's funny that Art Handler is an art magazine that doesn't necessarily promote art but raises the value of everything around it, shining a light on all art's messiness, absurdity, and glory. That's something a lot of people can relate to, and social media made that possible.
Which fundamental values do you think The Art Handler is defining and reinforcing?
Art Handler comes out of a long tradition of projects aimed at deflating the aura of the white cube, but what makes us unique is that we do this out of respect for the people whose labor makes art culture possible. Rather than a series of tasks valued for their service alone, Art Handler's position is that there's potential to view labor as something that doesn't simply support creative work but pivots to new ideas and practices.
How .ART Domains Are Taking Artists Online Read More How to register a business email on .ART Read More Portfolio on .ART: How to showcase your creative work in 4 simple steps Read More
Jobs.ART was initially created as a platform supporting Art Handler, making it a sustainable and independent publication. Could you tell us more about this platform?
Jobs.art is the latest project from Art Handler and provides a clear path to keep Art Handler's editorial mission sustainable and independent. In so many words, we're able to avoid some of the conflicts inherent in funding a publication.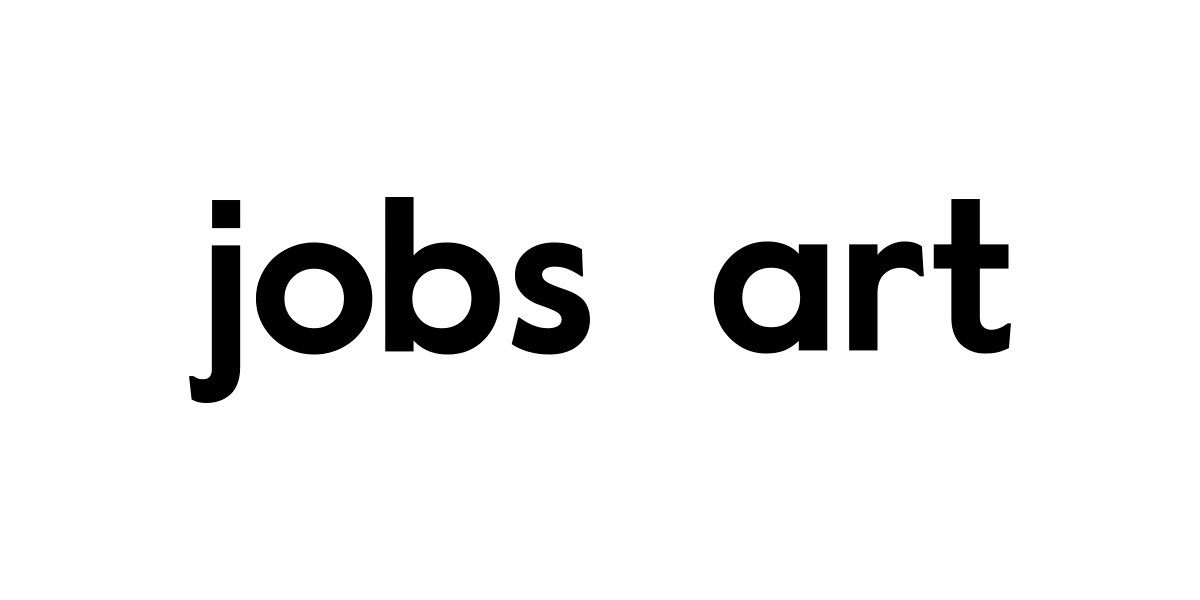 What is the difference between jobs.art and the other international listings websites?
Job-seekers now have a better resource for jumpstarting their search. Jobs.art is an international platform made by art workers, for art workers. It cuts through the noise of confusing, outdated listings sites by prioritizing a vetted, quality employer pool — all while emphasizing its mission to promote fair and honest work. Jobs.art also has a "no internships" policy. All listings posted on jobs.art must be paid. Unpaid positions will not be accepted, which has potential to create structural change on other platforms. Just imagine if all listing websites removed unpaid internships? That might impact more people getting paid in the future.
From the very beginning you chose .ART for your then new project  jobs.art. Why?
The launch of the .art extension made it evident that the art world was growing, online and globally, which I interpreted as more jobs, more people hiring. As a listings site was already on our radar, the extension gave us an opportunity to streamline some of Art Handler's goals and provide something for everyone.
Do you feel that .ART domain zone has provided more than just an online address? Has it helped you to shape the further marketing strategy?
Absolutely. You couldn't ask for a better name. There's no confusion and you know exactly what you're getting. It's a job site, and its focus is art. So yeah, essentially, you have provided half the marketing for us. You're like the readymade, but for online identities.
---
Also published on Medium.