Top 5 Blockchain Art Projects
Blockchain is everywhere but its uses are more versatile than one might think. From symbolic depiction of wealth to an artist network powered by Bitcoin, .ART looks at some of the most interesting crypto-projects in the world of art.
Blockchain is all the rage these days, including in the art world. Yet how exactly blockchain is reshaping how we buy and sell art is only one aspect. Artists are also utilizing blockchain in unique and conceptual ways. .ART is committed to following and helping platform unique developments in blockchain applications, both as conceptual art projects, as well as in practical terms as a ledger establishing proof-of-provenance. So without further ado, here are .ART's favourite recent art/blockchain projects.
The 'Richard Prince' Ready-Made Token by Olivier Sarrouy
In December 2018, an ominous website went online called "The Distributed Gallery," announcing it would be auctioning off a single "Ready-Made Token" by the famous appropriation artist Richard Prince. "The Ready-Made Token (RMT) is a blockchain-based crypto-currency. In the end, the Ready-Made Token had no real purpose, nor could it be mined or exchange for other currencies. It was more like an experiment in bringing the notion of the ready-made into the crypto space. Soon after it was announced, however, it was revealed that real Richard Prince was not behind the project at all, but rather that it was the brain child of a French artist named Olivier Sarrouy, who pawned and trolled the ready-made artist in a way that was, in any case, totally fitting anyway. Bravo!
'The Mill of Blood' at Documenta 14 by Antonio Vega Macotela
At Documenta 14 in Kassel, Mexican artist Antonio Vega Macotela developed a project that used a mill made of wood that participants would physically turn around in a circle that was used to mint silver and gold ingots, stored beneath the installation for the duration of documenta. The project expanded upon Antonio Vega Macotela's long-term research into exhaustion as an operation of scarcity and wealth, mapping out how value is made within the complex interrelations that make up our global economy. The minted ingots were stored under the installation and were also tethered to an Initial Coin Offering based on the stock value of the physically lamented ingots. Macotela's project transmitted mechanisms of movement into a unique unit of crypto exchange. In doing so, his project foregrounded not only how artists are adapting to concerns over labour and political economy in art, but also how labour can be translated into blockchain applications.
KinetiCoin at the CSW Ujazdowski Castle Center for Contemporary Art 
In 2017, together with coin developed and computer programmer Scott Horlacher, I developed a project called KinetiCoin that was launched over a 3-month exhibition and residency at the CSW Ujazdowski Center for Contemporary Art in Warsaw. The purpose of KinetiCoin is to track bodies and movement within the gallery space, using an ethereum based smart contract to award motion and movement therein. For each hour of performance time, one KinetiCoin token is awarded. The project envisages how we can develop an alternative set of economics that awards and tokenizes performance time in a gallery setting.
BitchCoin  — A Token for Investing in an Individual Artist
Typically, when one buys a work of art, you get a painting or a sculpture or some other material form. However, when Sarah Meyohas developed a blockchain based project called BitchCoin while doing her MFA at Yale, she envisaged it as a way of making a mineable investment into her current and future art production. When you buy one or more BitchCoins, you are awarded a certificate of authenticity with an encrypted number, which you can then redeem for a physical artwork. The value of Meyohas' work will remain a constant—one BitchCoin for every 25 square inches of a work. In the end, it would take about 25 BitchCoins (which the artist is selling at $100 USD each), to buy one of the artist's prints (valued at $2,500 USD). "Selling artwork has become this mechanized process," Meyohas recently said in Wired. "At its worst, artists are just stuff producers. This is kind of about artists reclaiming agency."
Snark.art Partners With Artsy to Become a Blockchain-based Gallery Partner

How .ART Domains Are Taking Artists Online Read More How to register a business email on .ART Read More Portfolio on .ART: How to showcase your creative work in 4 simple steps Read More
Snark.art is a "laboratory" that allows artists to use blockchain as a means of selling their work, which recently partnered with Artsy in delivering art to collectors from their established, global network. Today, Artsy boasts over 3,000 gallery partners across 95 countries, so access to such a wide network is incredibly beneficial for artists wishing to sell their work via crypto. snark.art is poised to grow within the digital market place by offering artists the unique chance to buy and exchange their work using blockchain technology, connecting with a large database of existing collectors. 
Dada.art — The Largest Collection of Rare Digital Art on the Blockchain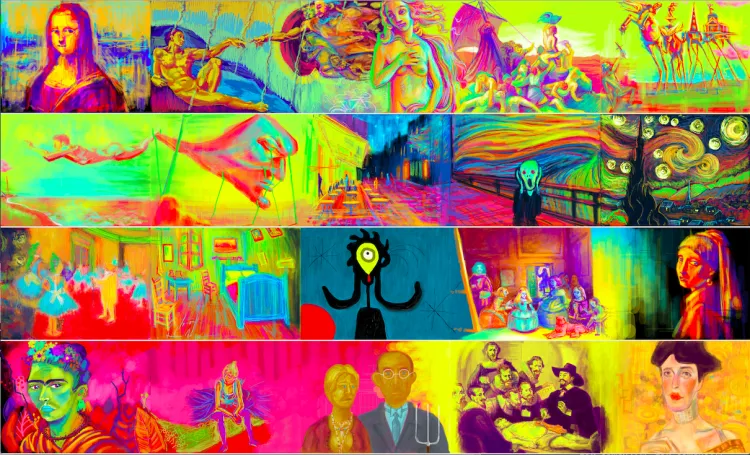 With more and more digital art being produced today than ever before, it comes as no surprise that artists and web platforms are adopting blockchain technology. Dada.art is one such digital platform. It offers over 110,000 unique drawings by 1000s of artists, and is the only unique digital space where buying and selling work is being done exclusively through blockchain technology. The web platform boasts hundreds of collectors, allowing them to spontaneously achieve a level of synergy with artists they admire, despite barriers like language, distance, nationality, etc.
---
Also published on Medium.