Adopter stories: Interview with Hilbrand Bos
Hilbrand Bos is a fashion illustrator and designer who lives in Amsterdam and loves his coffee. .ART talks to Hilbrand about how he learned to play piano out of procrastination, his top-secret work with Universal Studios and why his domain name is just what it should be.
How do you actually make your work? It's hard to tell.
There are multiple ways to go about it. I draw a lot, sometimes I do traditional sketches and painting, and then I refine it in Photoshop. Sometimes I do a hybrid way of working – painting a part on my tablet and a part manually, that works especially well for me. When I'm working in Photoshop I have all sorts of presets that mimic traditional ways of creating, like brushstrokes and inking, so it all matches nicely with the work I create manually and scan. Sometimes I look at one of my works and it's hard to see what I did digitally and what in a traditional way.
Do you think art as it was a hundred years ago is going extinct because of technology?
I think you have to be clever and if technology can help you, you should use it – especially if you're working for clients and with deadlines, when timing is of essence. Besides, using technology in one's creative process is not such a new trend. A painter that I like, George Hendrik Breitner, used photographs to create his paintings, and that was more than 100 years ago already. Famous 17th century Dutch Master Johannes Vermeer is also believed to have used photographic techniques to paint a couple of his famous pieces.
Speaking of technology, how essential is having a website in the modern art world?
Your website is your business card and if you're a commercial artist it's crucial to have an online portfolio, especially if you're not represented. I chose a .ART domain because it looks nice and because www.hilbrandbos.art contains only what it should – the two things that I have to offer – my personality and my art.
Do you have a creative routine?
Coffee first, that's for sure! I have breakfast and read some news and then I'm off. I work in a studio in Art City, which is a beautiful space in a former shipyard on the waterfront in the north of Amsterdam, which I share with about 300 artists and artisans.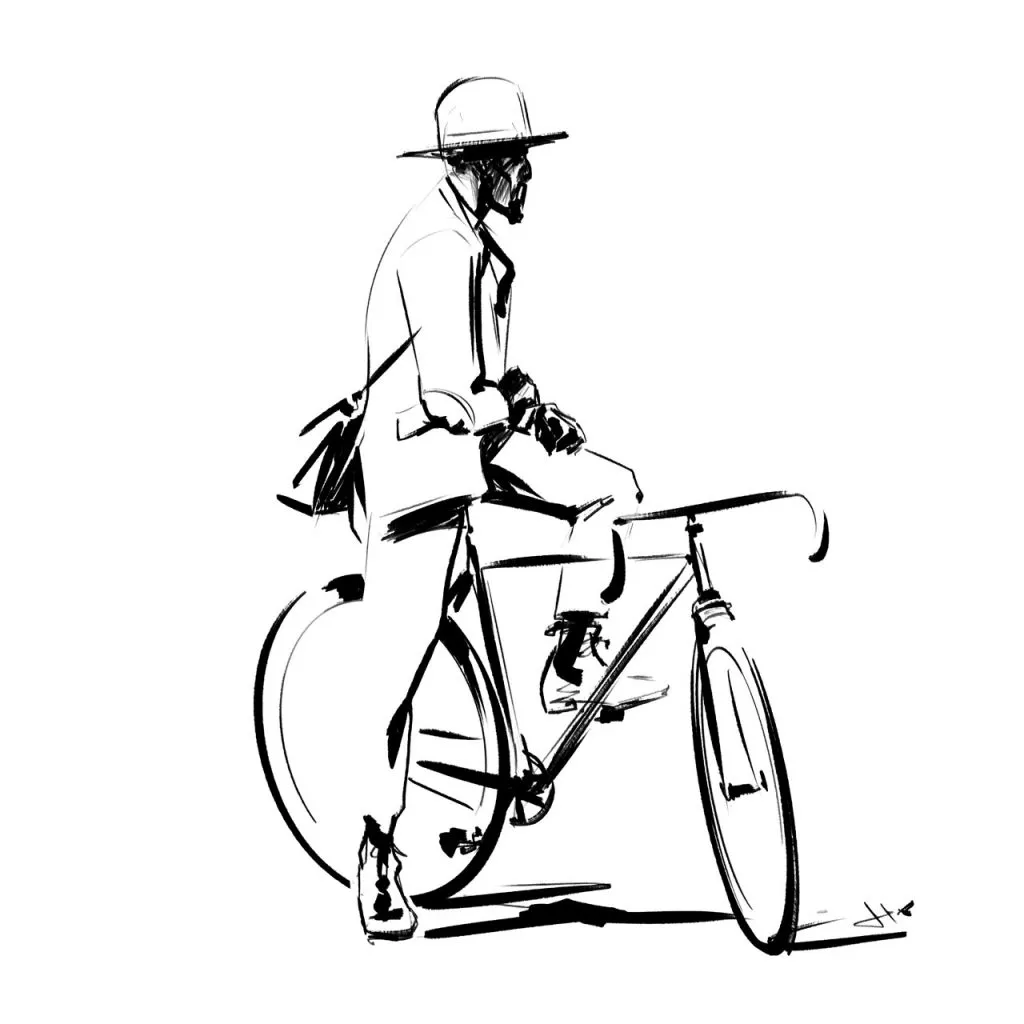 What's your favorite thing about living in Amsterdam?
First, coffee! (laughs). It's kind of hard for Dutch people to go abroad as Italy is the only other country with great coffee! In Amsterdam there is plenty of culture, live music and jam sessions. As a musician I love that about my city.
At the age of 20 you self-taught yourself piano. How did that happen?
That was actually bored out of procrastination. At the time I was studying industrial design at university and it wasn't quite right for me. I knew that but I couldn't accept it, so I procrastinated a lot. One day I started playing a little keyboard my roommate had, and then I discovered that there are excellent piano facilities at university, so I would practice every day for 2 hours. A few years later I also discovered the hammond organ, which you hear a lot in gospel music and jazz, and hearing it gave me goosebumps from the top of my head to the soles of my feet. I started playing in bands and now do it semi-professionally. I really believe that some of the best ideas come out of boredom and procrastination.
Is that inspiration then?
Inspiration is a little overrated. To me it's about putting the pen to the paper, starting to draw, and in no time I'll be in the flow, with things just streaming from my pen. Just make sure that empty white paper is not empty anymore. Most probably 50% of what you make will not be so great, 40% will be good and then there will be the 10% of excellence that will get you new jobs and you'll be proud of.
So, what's your 10%?
I actually can't share too much about that. It's a project I'm doing with Universal Studios and Illumination Entertainment on the cartoon The Secret Life of Pets, the second part of which coming out soon. I work on the merchandise that comes out with the movie, drawing the characters in my particular style. It's really fun.
Do you get to go to the premier?
I don't think so, I've never even met any of the people at Universal! It's quite funny but that's how work is nowadays – everything is done online.
What project are you focusing on now?
I'm doing a big project for the Dublin Horse Show at the moment. It's an event that's over 150 years old and I'm doing all the visuals for them, so that's a lot of horses! I like drawing people most and that's why I ended up in fashion and lifestyle, but the next most difficult thing is animals. Horses have their own character so that's quite an interesting task.
Do you consider yourself to be a fashionable person?
No. Fashion interests me a lot but not on a personal level. I can be fashionable when I put my mind to it but it's not my go-to way of expression. Especially when you mess around with paint all day you don't want to wear your best clothes! I see myself as a cultural anthropologist of the fashion industry, with a brush and a pen in hand. All these well-dressed people at shows like Pitti Uomo, it's like a tribe with their own particular behaviors. I love observing, researching and documenting it.
---
Also published on Medium.