.ART Blog: Time To Look Back at the Best Articles of 2021
As 2021 is ending soon, we look back at our blog, on which we publish several articles each week. What did you enjoy reading? Discover the top 5 articles amongst hundreds of them!
First place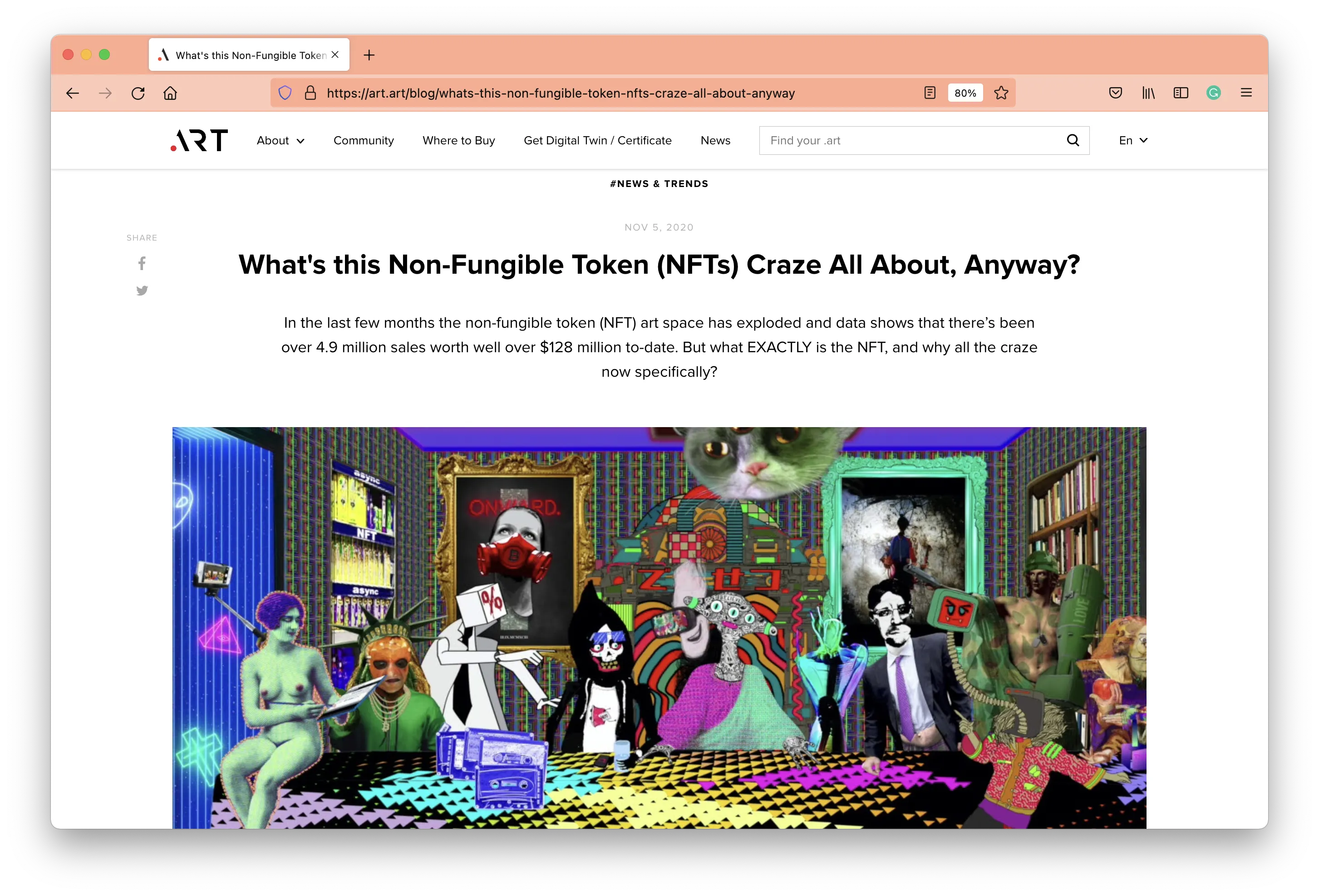 If 2021 was the year of something – it could be remembered as the year for a comeback extraordinaire of the QR code, but there is another thing that made a LOT of noise this year, and that is Non-Fungible Token or NFTs! This article, while published in November 2020, just two little months away from 2021, was ahead of the curve.ART was already looking at what an NFT was. The headline was about 4.9 million dollars of sale in the last months – the few previous months. We were far from thinking that an article called Beeple would throw all caution in the wind and take everybody by surprise when he sold "Everydays: The First 5,000 Days" for the tiny amount of $69.3 million. If you still aren't sure what NFTs are or why they are causing so much noise – this is your article! We don't doubt that by the end of it, you might be into them more than you ever think you could! You are in for an informational article that will also provide you with examples.
Second Place
Instagram is changing at the speed of the light – but emojis have been in for more than two decades now. While more appear each year, and some are more and more surprising or are expressing more and more pin-pointed emotions, are they the best way of interacting with your followers (and friends or family…)? This article does a deep dive into the pros and cons of keeping them in place and, if you aren't in for the whole ordeal, how to disable them! We hope you will enjoy your read 😉!
Third Place
We repeat it often, but the name you choose for your domain is such a critical factor in your online presence and its success. Choose something too long. People might not remember. Find something super short, but that sounds like something else. It might not do the trick either. It is hard to find a name for someone or something – we know it. It is also one of the reasons why get.art suggests many possibilities related to your main idea and will help pick just the exact perfect name! Very few companies, artists or people will change their name in the course of their life – make sure to choose a memorable one to leave the most significant and boldest impression! If you aren't sure where to start, this article is for you and will guide you through a very rational and optimal thought process to find your ultimate domain name!
Fourth Place

The first place article is about an NFT – so it isn't so surprising that NFTs are featuring more than once in this top 5. Actually, more than 50% of the most love articles are about them! This time, it is all about how .ART is becoming one critical differentiating factor for artists launching NFTs – just like Pak and Mario Testino! If you are about to launch your NFTs collection – think about how you can make a huge difference simply by opting for a domain name that tells the world that you are part of the art world – .ART!
Fifth Place
NFT have made the headlines several times with big rewards in a matter of very little time. The record-breaking prices have grasped the attention of many who didn't look at NFTs with the seriousness they deserved. This article will give you some insights on how Grimes did it and where to look for NFTs if you are on the hunt to add some to your collection!
---
How to link your .ART domain to your Instagram account Read More How to link your .ART domain to your own YouTube channel Read More How to link your .ART domain to your website Read More
Now – time to put another year in the past and look forward to 2022! This is a tiny peek at our editorial for 2021 – and we can't wait to write and publish what will become the top 5 of 2022. We have some new surprises in our sleeves with new collaborators, new series, and more! We also have a strong desire to meet your expectation and publish articles on topics that contribute to your success or grasp your interest. Let us know what we should write about! DM us on social or email us at media@art.art to let us know what you would like to read on our blog in 2022! Happy New Year ( a little early, yes).ART Team.