Instagram Quick Emoji Reactions: To Use or To Disable?
Emojis can express emotions – such as support or dissatisfaction, and this can be valuable in the context of Instagram stories. They can be helpful in letting you evaluate the success of a given post, but they can also be used to excess. This article will teach you how to make the most of them and how to disable them when needed.
Quick reactions to Instagram stories first appeared in 2017. This feature helps you express how you feel about certain content that's posted in people's stories. The majority of users enjoyed this feature because it made it possible to interact with other people's content without necessarily leaving comments. Others, however, felt that in certain circumstances, these emoji reactions weren't appropriate.  
In this article, you will learn exactly how this feature works, what to do with it, and whether it can be used for business purposes. 
What exactly are quick reactions on Instagram?
Quick Reactions is an Instagram feature that allows users to show how they feel about certain content posted in stories. The choice of reactions is limited to a mini-set of emojis — a total of eight emoticons. 
When a user reacts to a story, you instantly get a message in your inbox. In case you're wondering, quick reactions and notifications look like this: 
When clicking on the notification telling the user that you have reacted to their story, they will see emoticons flying up from the reaction.
How to leave a reaction to a Story
To leave a reaction to a story, click on the avatar of the user who uploaded the story. When the story opens, click on the field to send a message and then select one of the eight emojis. 
An animation with the selected reaction will appear on the screen, and the user will receive a message in their direct messages indicating that you have responded to the story. The same notification will also be sent to you via direct message.  
How to link your .ART domain to your Instagram account Read More How .ART Domains Are Taking Artists Online Read More How to register a business email on .ART Read More
The person who has posted the story will quickly understand, based on the number of reactions they receive, how interesting their content has been to their followers. This feature is available to both those that have personal accounts as well as business accounts.  
Tips: To help you grow your community and establish yourself as an ardent presence among it, you should take time to react to your followers' stories.  
Post a visually appealing photo or short video of a new product in your stories and wait and see how subscribers react to the announcement. It helps to engage with your users via stories' surveys too — ask them to vote in an attached survey or for them to write their opinion out as a response to their story.
How to enable or disable quick reactions on Instagram
Paying excessive attention to someone's content in stories can quickly get annoying. If someone has tens of thousands of subscribers, a constant bombardment of responses can get quite overwhelming. When this feature first launched, a lot of users filed technical support complaints about the flurry of notifications they were receiving from their followers' reactions.  
If you've experienced something similar, rest assured there's a solution: you can disable quick reactions, and it's not at all difficult to do so.  
To do this, go to your account settings, and in the "Privacy" section, find "Story".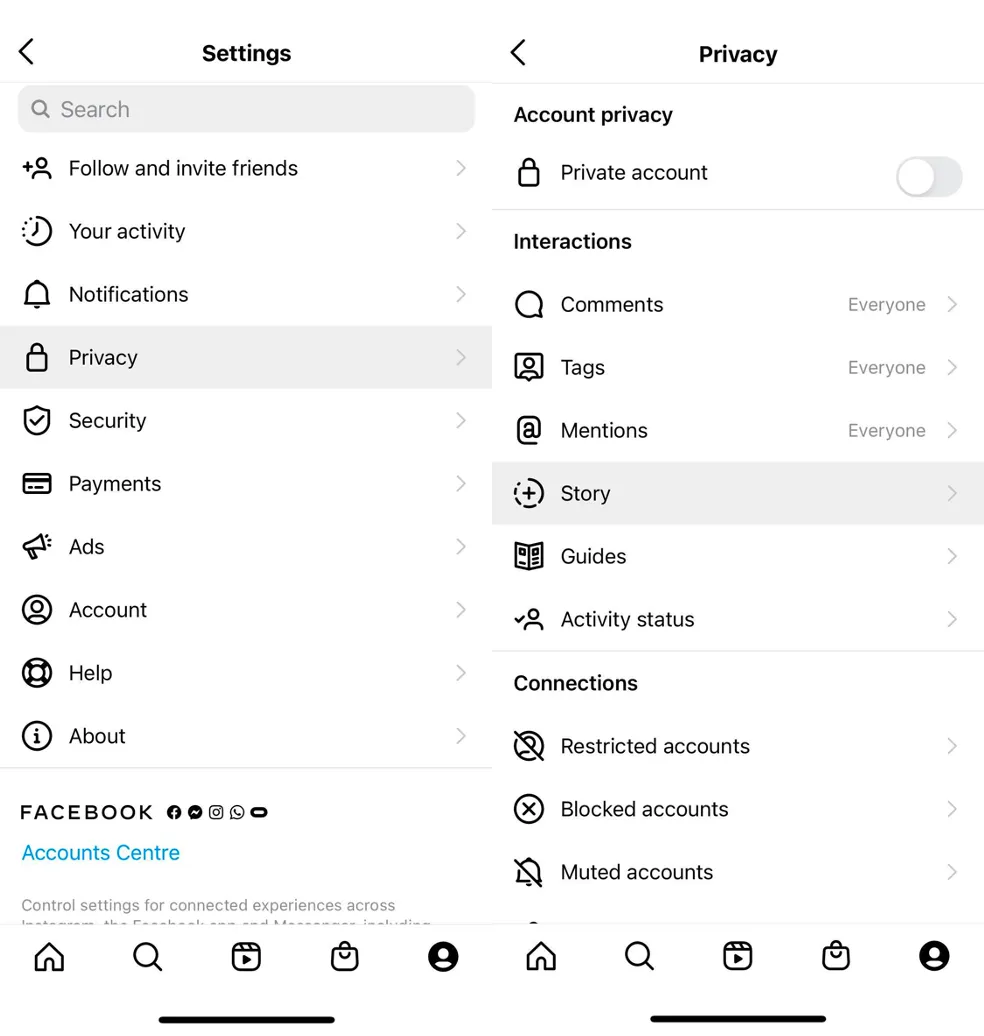 In the window that pops up, find the section "Allow replies and reactions" and select "Off". The settings will be saved automatically. 
Once you've done this, Instagram users will not be able to send quick reactions to your stories anymore. 
Quick Instagram reactions is a feature that can be turned off by both ordinary Instagram users and those who run business pages. You will not get comprehensive statistics and missing out on receiving reaction posts can cause you to miss important information. What you can also do is to turn them on only at specific moments – such as when you need your followers' opinions on a particular subject. For more in-depth evaluations, create surveys in stories and in the comments under posts.