"I have constant FOMO and I am obsessed with art." – Interview with Marie-Eve Lafontaine
An independent curator and advisor working across media and disciplines, Marie-Eve Lafontaine talks all things digital.
Marie-Eve Lafontaine is an independent curator and advisor working across media and disciplines. Previously, she was director of Arsenale Contemporary in New York City, and has curated exhibition in Berlin, London and Warsaw. She has been an adopter of the .ART domain since its inception. She sits down with Dorian Batycka to discuss all things art and digital, narrowing in on how curating is adopting to new technologies.
Can you describe what drew you to contemporary art? Where did it all begin for you?
I've been obsessed with museums since I was little. I grew up in a loud house as one of four children, so it was one of the few quiet, peaceful places I was allowed to go to alone after school. We also moved around a lot. Museums were one of the few stable points which I grasped onto because then, as now – *cough* – museums tended to show the same artists. It was like meeting the same friend again and again in different countries, and each time I learned something new about them.
The presentation and 'zen' of museums and galleries, the way beautiful objects were treated with awe and hushed respect, and the way it allowed artists to communicate a unique message about the way they saw the world were all deeply appealing to me. I am also a very empathetic person, so to step into an artist's shoes and have the privilege to look through a tiny part of the psychedelic lens through which they understand current and historical events bring a beautifully rounded and deeper understanding to comprehension of society and the different personalities that run around in it. No two people are alike, and the richness of civilization comes from the strength of all our combined and wildly different viewpoints.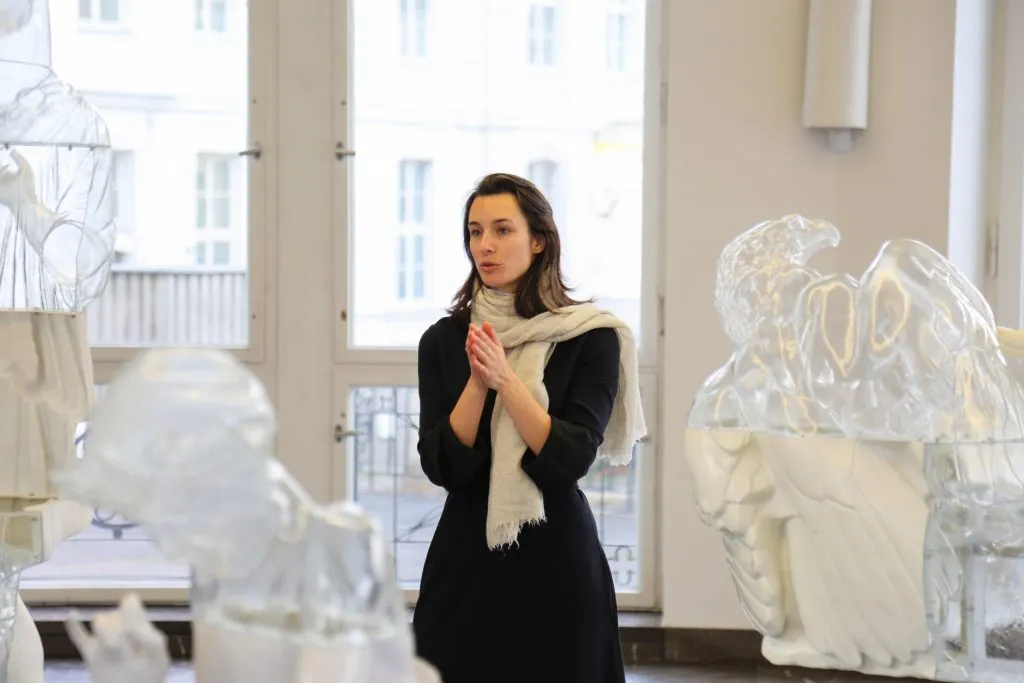 You recently curated a show of the Scottish artist Rachel Maclean at Arsenale in New York, can you explain what initially drew you to her work?
Rachel's show was actually an initiative of the Arsenal collection owners, Pierre and and Marie Trahan, as well as being partly a co-production with the Zabludowicz collection.
It was so fantastic! We commissioned her to create an entirely new video which, if you're familiar with her other work, was mind-blowing as you'd expect. She re-interpreted the current Brexit saga into a typical English fairytale filmed herself playing all the characters. The entire room was designed like a funhouse while characters from 8 different TV screens interacted either other from around the room. It was headache to install but I was very pleased with the result. She is a fantastic artist and her work is extremely on topic. Politics is so crazy right now, you can't understand in any other way except as a farce.
When organizing a solo-show, how does your approach differ when working one-on-one with an artist, as opposed to a group?
A solo show allows me to really get in touch with research and work on a deeper level, and it requires also a lot of trust between the curator and artist, which is a privilege. It's a very funny sort of intimate connection, because they open their studio to your judgement and sometimes, criticism. But it's always crucial to have a second pair of eyes because it is difficult for creatives to be self-critical. When artwork comes from such a personal part of yourself, how can you look at it objectively?
Group shows let you tackle a theme which you might see running through the work of several different artists. However, it has to be something important enough to take the time to point out. I've seen a lot of group shows which just focus on novelty or certain aesthetics themes – this is the wrong approach. Unless what you are showing has a deeper meaning and purpose, it is simply a waste of time and money. Why would you make something unless there is real content behind it?
How .ART Domains Are Taking Artists Online Read More How to register a business email on .ART Read More Portfolio on .ART: How to showcase your creative work in 4 simple steps Read More
Online presence is incredibly important and an up-to-date website (artists, I am talking to you!) is totally crucial to have.
The internet has become essential for artists and curators today. How do you balance digital vs. traditional methods of curating, and how important is the internet for you in terms of either discovering new artists, exhibitions, etc.?
My first point of reference, when someone recommends me an artist or a gallery, is their Instagram page. It gives me a great idea of not only what the artist had made, but also what he/she might been working on, or recent exhibitions they might've had.
Next I look at the website, which is the more 'professional' side of an artist. Same goes for a gallery or institution or any exhibition I might think of visiting. Online presence is incredibly important and an up-to-date website (artists, I am talking to you!) is totally crucial to have in 2019. Often when putting together an exhibition, I bring up all the works on a screen digitally that are not physically possible to have together in person and try them out in different groupings. Same with placing them around the room and adding or taking away architectural elements which can effect how the audience perceives the work. Conclusion: in curating, the internet is totally important, totally crucial, and it's not going any anytime soon. But that's already obvious to anyone in the art world.
You're very active visiting exhibitions and art fairs all around the world. Recently, you were at Frieze in London, FIAC in Paris and will be visiting Basel in Miami this December. How do you plan for fairs and how do you organize what to see?
I have constant FOMO and I am obsessed with art. It's a very unhealthy combination!
I write everything down in a planner, old-school style. By the time an art week roles around, it's usually nothing but scribbles. Then I try and make it where I can but there is so much to see that I only manage about 75% of it. That's fine. The most important thing (!!!) is that you should not take yourself too seriously because as soon as that happens, you're lost. There are so many egos and anxieties in this parallel world that I think people tend to forget that it's not about them. That art always has been, and always will be, about taking pleasure in something beautiful. Ideally in nice company.
Finally, what are you working on now? Any new or existing projects or exhibitions?
Right now, I am working together with the photographer Maxime Ballesteros on a project upcoming next year, and I am currently consulting for some NYC-based and European organizations on exhibition and residency programs. I am fortunate that I really love my job. It brings me into contact with so many exciting places and people I can't imagine doing anything else.
Learn more lafontaine.art
---
Also published on Medium.