Let's Celebrate; Happy World Emoji Day
Happy July 17th – we already see your face. Your expression must feel like puzzled. July 17th is not only the birthday of phenomenal photographer Berenice Abbott or French painter Jean-Baptiste-Camille Corot – it is World Emoji Day!! Let's take a deeper dive into these tiny pictograms that are a thing for more than 20 years but the centre stage for 10! And they aren't going anywhere.
First thing first, how July 17th was picked as the date to celebrate Emoji? While this has been a date for announcements or new releases in the past, it has been selected because the first calendar emoji displayed the number 17. In 2020, it became official that the 17 stands for July 17th and the month name have been added on the emoji top left corner. 
Emojis are not only part of our conversations. They are influencing art too!
Artists have been notorious for repurposing various materials to take pictures, from Vik Muniz (re)creating famous paintings with spaghetti, caviar and garbage, to Eric Andrew Lewis. He made what he calls Emoji Mosaic. The web developer for The New York Times said that it was fun for 10 seconds. But then went on and created a page on his website so you can upload an image and have it turn into a mosaic. Check it out for yourself here! And thanks to our friend from booooooom to give us this hint!
The second artist inspired by Emojis is Claudia Mate, who is behind moodyvib.es. This was created as an Emoji sketch testing _playGnd animation tool designed by Nick Briz + Branger_Briz. It resembles a little bit how the cards at the end of a game of Solitary burst out. It is a playful way to express your current mood, and as many emotions that you can feel at the same time, this exposes how many emojis can be used to describe your mood – all at once, mixing their meaning by associating them with others.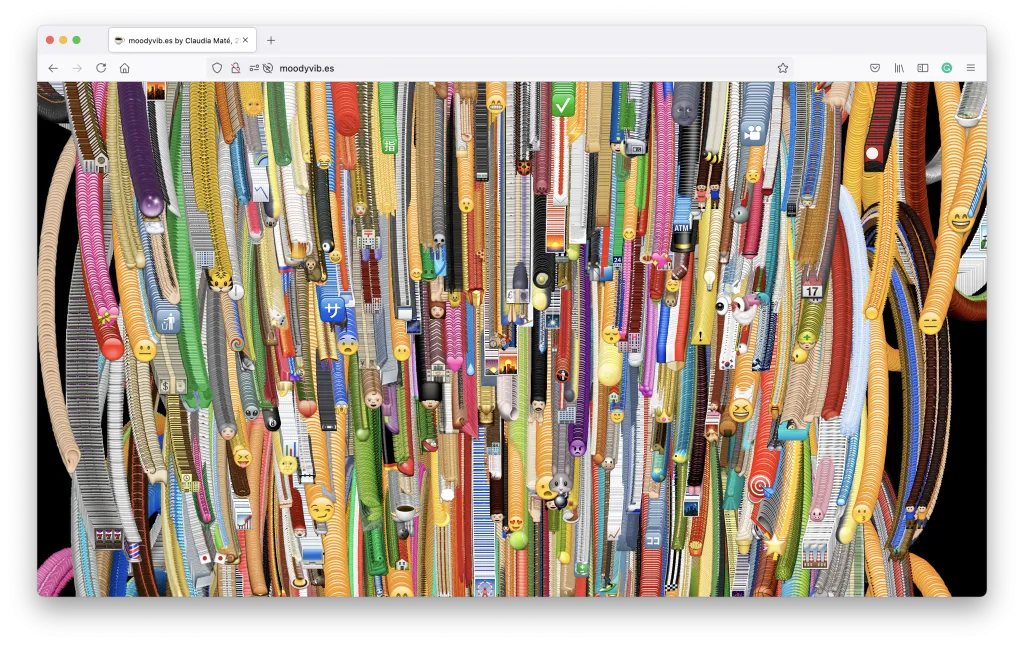 Artist John Yuyi creates by association. Under this artist creative mind, things acquire new meanings. Adding Emoji's and "glueing" them onto a woman's face made no exception. "Which one is u I'm all!!!!!! Xx" was the caption of this 2018 Emojis picture.
Finally, what if Emojis could be turned into wallpaper but an interactive, ever-changing one. Emojis are becoming a cascading one, like a waterfall wall. Compelling and dizzying to look at but such a great way to express all the feels and possibilities at one. See the Emoji Wall for yourself here.

How .ART Domains Are Taking Artists Online Read More How to register a business email on .ART Read More Portfolio on .ART: How to showcase your creative work in 4 simple steps Read More
And to make sure that you are Emojis knowledge ready for your next Trivia game – here are some key moments, announcements and fun facts about them! 
In 2015, Pepsi did launch something called PepsiMoji – yes – which included a special edition of cans and bottles. It was released first in Canada and then in 100 more markets the following year.  
2016 was the year of the first announcement regarding The Emoji Movie, which was released in 2017. It was also the year that Google became a bit more inclusive and released a new series of women from diverse backgrounds. It didn't stop there, Emojipedia – a Wikipedia | Encyclopedia for Emojis – also launched their first World Emoji Awards that year.
Since 2017, World Emoji Day is used by Apple to announce the new addition to the emojis family. If you like Guinness World Record, the following fact is for you. In 2017, there was an attempt in Dubai to established a record for the "largest gathering of people dressed as Emoji. It was also the year when Emojis made a stunt on the New York Stock Exchange, with actors Jake T. Austin ringing the closing bell.  
In 2018, Facebook issued a statement saying that "700 million emojis are used in Facebook posts each day". Kim Kardashian was also part of the celebration, releasing her Kimoji Fragrance.  
Finally, can you guess what 2020 most popular Emoji was? A White Heart – what will be crown in 2021. We can't wait to know.  
Which Emoji are you hoping to see next? Which one do you feel is missing?