The Art of Filmmaking: Screenwriting, Producing and Directing
From Cannes to the Oscars, the Golden Globes to Berlinale – anybody who once listen to any of these ceremonies understand how much work goes into creating a single picture; from short movies to trilogies. Projects of this scale, even with the smallest budget or the one single room pan needs a cast and a crew. The Art of Filmmaking; Screenwriting, Producing and Directing is a quick dive into this fascinating universe that brings us so many emotions.
What is the Art of Filmmaking? This term is encompassing the entire process by which a picture or a film is created from its inception to the final product hitting the theatres or your favourite on-demand services. It includes many stages from thinking the initial story to writing the script, casting, shooting, recording, pre-production and post-production and taking care of many small and big details in between each step of the p of the process. This occurs and touches upon many contexts from social, political and of course economic.  
Writing the or a history of filmmaking would involve a fair deal of research especially as one wants to be thorough and accurate. But one thing we can do is to provide you with highlights and fun facts that will up your trivia games and might just give you an edge on your next [ insert a situation here: interview, date, family party…] – you are welcome.  
You can plan, but sometimes what comes up at the moment is simply the best.
Did you know that Jaws' most famous line was improvised? The best-known line from Jaws – "You're gonna need a bigger boat,"  – wasn't part of the original script.  Actor Roy Scheider said it throughout the filming, joking about the small boat the producers had selected to hold the filming equipment, and it ended up in the final cut. 
Nothing is perfect the first time.
The bridge explosion in The Good, The Bad and The Ugly wasn't done in one take but had to be reshoot. The big scene of the movie, the one when Blondie and Tuco blow up the bridge leading to the cemetery where the gold is believed to be buried—had to be shot twice. A misunderstanding led to the dynamite around the bridge being detonated before cameras were ready to catch it, requiring the bridge to be rebuilt and the whole thing to be shot again. Oupsy! shall we say!  
Hard lesson to learn – the importance of backup… Toy Story 2 Was Almost Deleted 
A command entered in the "master machine" where the animation for Toy Story 2 was stored deleted 90 percent of the work the Pixar team had done on it. As Mental Floss describes, "A plan was quickly hatched to restore the data from a regular backup, which meant that only half a day of work would have been lost. But the backup system had failed. Pixar, incredibly, did not have a copy of the Toy Story 2 files on its servers." Fortunately, the film's technical director had a copy she had been working on from home, and much of it was restored. 
Not everything needs to be long to be good.
The first narrative film is under 12 minutes long Though it was not the first film ever made, the 1903 film "The Great Train Robbery" was the first film that told a story and is considered the first narrative fiction film. Under 12 minutes long, it was produced by Thomas Edison's Edison Studios.  
Never too young to start. Director Steven Spielberg made his first film for a merit badge 
Steven Spielberg's first film, "The Last Gunfight," was nine minutes long and recorded on 8 mm film. It fulfilled the requirement to earn his photography merit badge for the Boy Scouts when he was just 11 years old. 
It isn't always about the budget. It cost more than $300 million to make the most expensive film ever!
According to NerdWallet, the most expensive film ever made as of November 2020 is the 2011 film "Pirates of the Caribbean: On Stranger Tides," with a budget of $378.5 million. The number was adjusted to $422 million for inflation. 
Please refrain from any swear words, but when did we hear the first curse?
It took two years after sound was included in a movie before cursing show up in the film in 1929. In the decades that followed, swearing became common, especially in American cinema. Which film won the prize for using a certain F-word? It is Martin Scorsese's "The Wolf of Wall Street." 
Equality between men and women is far from achieved in the movie industry.
Do you know that only one woman has been nominated for an Oscar for cinematography? While only one woman has ever won the Academy Award for Best Director, only one has been nominated for the Academy Award for cinematography. The honour went to Rachel Morrison for 2018's "Mudbound."  
And just to stir the pot on the debate over MFA or No MFA…School isn't always needed.
James Cameron, Peter Jackson and Steven Spielberg did not go to film school. They also both don't like to recommend students to do it. What they both advocate is for filmmakers to keep practising and building their reel until they have enough experience to work on paid directing jobs.  
Product placement wasn't invented yesterday.
It is in the late 1920's that the first paid product placement has taken place with Hersey's chocolate bar being featured and eaten by the cast of Wings in 1927!  
Let us know which fun or disturbing facts shall we add to this list?  
---
We also like to highlight members of our community that are directly working and contributing to the Art that we discuss. Here are five rising stars that have understood the value of choosing .ART as their domain name!  
Vera Graziadei
After completing her BA Acting from London Academy of Music and Dramatic Arts, Vera Graziadei has started to work as an actor in film, TV, theatre and radio in the UK, on both national and international stages. Vera has recently founded Luminous Arts, a film production company and has since then written, directed, produced and acted in several award-winning short films. On her .art website, you have access to different works, such as White Light, a short film that was produced based on one of Vera Graziadei's poems. 
Her work can be appreciated on her .art website veragraziadei.art or on Instagram under the handle @vera.graziadei. 
John J Kim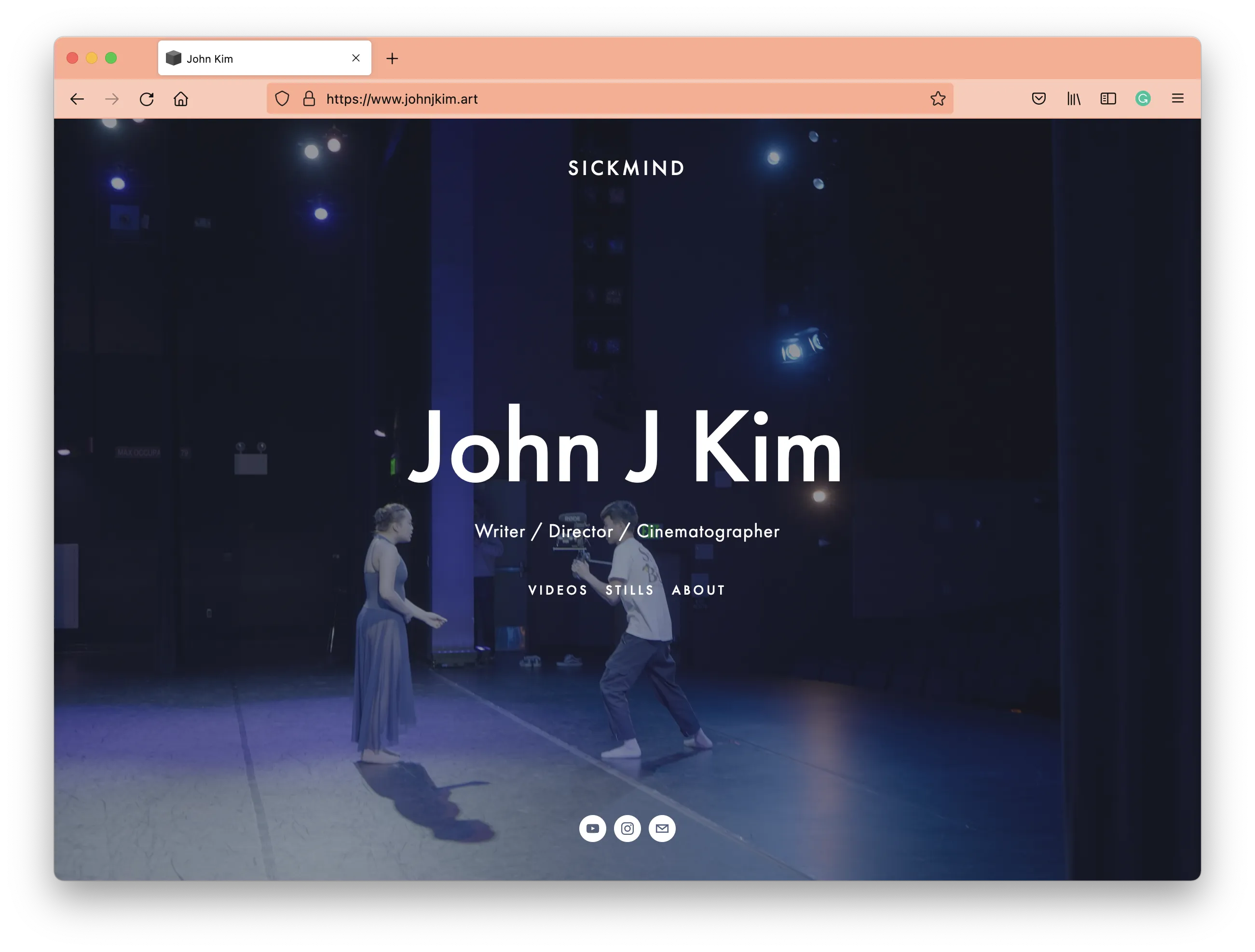 Based in California, young Korean American John J Kim dates back his interest in producing films to his childhood: the old flip phone that he was given by his mother when he was only four was his first step in the world of filmmaking. Currently studying the film and television production program at the School of Cinematic Arts at the University of Southern California, John has already had the opportunity to demonstrate his talent through various music videos and short films. 
Visit his website johnjkim.art to discover more about his work and find him under @unlikejohnn on Instagram. 
Francisca Duran

Experimental media artist, Francisca Duran creates films, video installation, and 2D, photo-based, mixed-media works that are often related to history, memory and violence. She had the opportunity to exhibit internationally at film festivals and venues by dint of work – including Edinburgh International Film Festival or Los Angeles Film Forum. Francisca Duran aims at making visible what is usually considered invisible and intangible, with for instance light, sound and memory. 
The work of Francisca can be discovered on Instagram under @franciduran and on franciduran.art.  
Kevin Haefelin

How .ART Domains Are Taking Artists Online
Read More
How to register a business email on .ART
Read More
Portfolio on .ART: How to showcase your creative work in 4 simple steps
Read More
Based in New York, Kevin Haeflin is a Swiss filmmaker whose award-winning short films have been invited to over 150 film festivals worldwide – including Locarno Film Festival and Max Ophüls Preis. Kevin won the Best Directing Award at Kyiv Film Festival. On his .art website, you have access to several movies he's worked on, such as Trumpet, his latest short film that won two awards at the Rhode Island Int. Film Festival, among other incredible things. 
You can explore his work on Instagram @haefelin or look at his work here haefelin.art. 
Conner White 
Conner White has already a well-supplied address book: indeed, he has worked as a videographer and photographer for Corning Museum of Glass, Bender JCC and Temple University. On top of that, he is also an animator and a graphic designer. Conner aspires to work as a cinematographer in Los Angeles. His "Film" section grants you access to several films he has worked on, such as Earnest Conversations, in which we have access to the life's snapshots of several anonymous speakers. 
Look into his universe by strolling through his website connerwhite.art or by glancing at his work on Instagram @c0nnerw. 
---
ABOUT THIS SECTION   
.ART Domains are dedicated to connecting, empowering, and supporting our vibrant community. We care about fostering a sense of belonging to the art world, and this new section celebrates creators that have recently joined.ART. This is our way to give back and shine a light on the work of amazing creatives, especially in these testing times! If you would like to be featured, please have a look at our submission guidelines here.