The Art of Making GIFs: Digital, Animated & Full of Personality
GIFs are very popular these days, and for good reason. They are fun, animated and an effective way to express your quirkiness and personality. Ready to learn more about them and discover some amazing GIF artists? Maybe you, too, will want to create your own.
Featured Image: When President Obama finished his remarks at his final White House Correspondents' Dinner in 2016, he literally dropped the mic.
The GIF – which is an acronym for Graphics Interchange Format – has been around for longer than you think – since June 1987! Yes, GIFs are amongst the older millennials 😊 They became incredibly popular on the World Wide Web (what we now call the internet but hey, we are being vintage!) mostly because they are widely supported and small in size.  
But did you know that they weren't always animated like the ones we are bombarded with today?   
GIFs were invented by CompuServe and any relevant patents regarding them expired in 2004. What makes GIFs so great is the fact that they have very low storage requirements but don't compromise on the quality, allowing a separate palette of up to 256 colours for each frame, even on animation, and they can reproduce gradients for visuals like photographs. Of course, they are also very well suited for simpler images that have solid areas of colours like graphics or logos. It is their data compression, known as LZW, that made them so appealing as images in the salad days of the internet took a lot of time to be displayed as the information had to pass through your telephone line and your (slow) modem. Some of us might remember the little dial-up sounds of the early internet.   
It was only in the Autumn of 1995 that the once-popular browser Netscape Navigator added the functionality to display animated GIFs. The fact that a user could stop the download halfway through and still get the point was one of the popularity factors for GIFs – one didn't need to download it fully to see at least a low-res version of the image. 
Funnily, it then took until 2015 for Facebook to finally support GIFs, and Instagram 3 more years to add GIF stickers to the story mode. To this day, GIFs are still not supported for posts on Instagram.   
Wondering how you can be the next artist creating GIFs, and you aren't sure where to start? You are in luck, we wrote a blog about how to make a gif, step by step. And if that isn't entertaining enough, you can contribute to the heated debate over how GIFs should be pronounced or just enjoy posting a bunch of them on your social media profiles! 
---
The fact that many adopters of .ART are creating crazy cool GIFs will not come as a surprise. After all, the. ART domain is the domain of choice for artists to highlight their talent to the world. Below, we focus on a few of them: 
Alvaro Reynaldo Flores Alanoca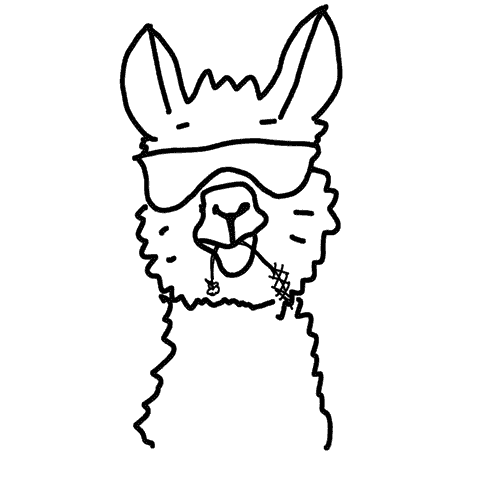 Bolivian artist Alvaro Reynaldo Flores Alanoca learned much about the culture of his own country when he moved to the United States. His strong heritage helped him to see the world through the eyes of the minorities who are poorly represented in mainstream art and media. There is a collection of digital art on his .ART, among which you can find animated GIFs through which Alvaro plays with space and dimensionality, but also landscapes or lamas.  
His work can be appreciated on his website arflores.art  or on Instagram under the handle @arflores.art.  
Jim Doran

  
Baltimore based artist Jim Doran wears several hats: he is a diorama maker, an animator and musician. His artwork has been exhibited in the United States, for example in the American Visionary Art Museum and in, Europe. Jim has an interest in animation and has devoted some of his time to animated GIF making, to which he refers as ".gif experiments".  
Visit his website jimdoran.art to discover more about his artmaking and find him under @jimdoran.art on Instagram.  
Pixilart  
How .ART Domains Are Taking Artists Online
Read More
How to register a business email on .ART
Read More
Portfolio on .ART: How to showcase your creative work in 4 simple steps
Read More
Pixilart is a free social platform for all ages. It contains an art tools section that enables the creation of beautiful pixel art. Pixilart describes itself as a new kind of social networking as they aim at engaging in the art of learning and networking. Through the shop section, you can even buy items adorned with your artwork. It is also possible to use this art tool to create animated GIFs.  
You can explore it on pixil.art or look at their Instagram under the handle @pixilart.  
Pi-Slices

  Pi-Slices belongs to a GIF artist whose work is focused on creating loops that are both satisfying and surreal. The artist has been producing a new GIF every day since April 2014. His work has been viewed over one billion times on Giphy. His daily GIF series has been featured by big names – such as The Guardian, Washington Post, Co.Design, and CBC Arts. Among his previous clients are Nike, BBC Two or even Nissan.   
You can explore his GIFs on Instagram @pi-slice or look at his work here at pislices.art  
---
ABOUT THIS SECTION
.ART Domains are dedicated to connecting, empowering, and supporting our vibrant community. We care about fostering a sense of belonging to the art world, and this new section celebrates creators that have recently joined.ART. This is our way to give back and shine a light on the work of amazing creatives, especially in these testing times! If you would like to be featured, please have a look at our submission guidelines at here.